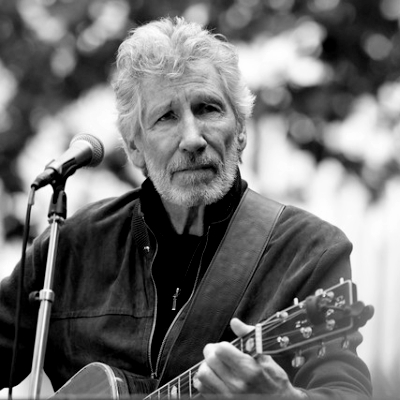 George Roger Waters is a songwriter, singer, bassist, and composer. In 1965, he co-founded the progressive rock band Pink Floyd and became their lyricist, co-lead vocalist, and conceptual leader.

Pink Floyd achieved international success with the concept albums The Dark Side of the Moon (1973), Wish You Were Here (1975), Animals (1977), and The Wall (1979). By the early 1980s, they had become one of the most critically acclaimed and commercially successful groups in popular music; by 2013, they had sold more than 250 million albums worldwide.

Waters' solo work includes the studio albums The Pros and Cons of Hitch Hiking (1984), Radio K.A.O.S. (1987), Amused to Death (1992), and Is This the Life We Really Want? (2017). In 1990, he staged one of the largest rock concerts in history, The Wall – Live in Berlin, with an attendance of 450,000. As a member of Pink Floyd, Waters was inducted into the US Rock and Roll Hall of Fame in 1996 and the UK Music Hall of Fame in 2005.

In addition to a monumental music career, Waters has also been a strong advocate for Assange and press freedom. He has featured WikiLeaks revelations in his highly successful tours, and he regularly appears in major media to deliver the powerful message that Assange's imprisonment, while being grossly unjust, poses a grave threat to journalism and society.