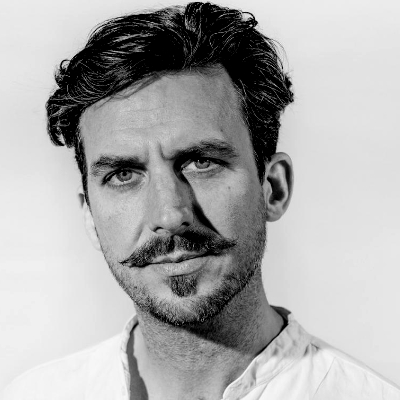 Murray Lachlan Young is a poet, stand-up performer, broadcaster, playwright, screenwriter and children's author.
murraylachlanyoung.co.uk

Oscar Wilde / Julian Assange
History repeats itself
BBC Radio 4,
Poetry Please,
24 January 2021
Murray Lachlan Young came to prominence during the Brit Pop era of the mid 1990's, when he became the only poet to sign a contract worth £1m.

His work echoes the great rhymers Edward Lear, Lewis Carroll and Gilbert and Sullivan, along with more alternative influences such as Grandmaster Flash, Tom Waits and Ian Drury.

His satirical commentaries can read like RD Laing in their philosophical intensity, whilst their subjects range from the vanities of celebrity and middle-class angst, to highlighting the absurdities of modern life.

Currently the poet in residence on BBC 6 Music radio station, touring the UK with his solo stand-up show and the collection of his work 'How Freakin' Zeitgeist are you?', published by Unbound books.

Performance

Since Murray's early shows supporting such acts as Julian Cope, the Pretenders and Dita von Tesse on the music and cabaret circuit in London, live stand-up poetry has been a key part of his career.

Tom Hodgkinson, Editor of the Idler Magazine, writes "Murray is both an actor and a wit, a poet who can perform and a performer who can write poetry, rolled into one."

Notable live solo shows include:

UK solo headline tours (2014, 2016 & 2017)

Glastonbury Festival of Performing Arts (1996-present day - except 2015)

MTV Music Awards, USA (1997)

T in the Park Festival (1998 & 2001)

Port Elliot Festival (2005-present day)

Latitude Festival (2006, '13 & '15)

Goodlife Festival (2013, '14 & '15)

Brighton Festival (2014)

The Wilderness Festival (2014)

6 Music Festival (2014-present day)

Festival No 6 (2015-present day)

Poet in residence at The Union Club, Soho, London (1997-present day)

Poet in residence at The Arts Club, Mayfair, London (2014-16)


Books

Collected Works

Vice & Verse (1997)

Casual Sex and Other Verse (1997)

How Freakin' Zeitgeist Are You? (2017)

Children's Books

The Nine Dead Williams (2014)

Modern Cautionary Tales For Children (In development)

The Mystery of the Raddlesham Mumps - Scotland Street Press (2018)

Collected Children's Poems (In development)


Stage

A Captive Audience (1992)

The Fabulous Twister Brothers (1993)

Modern Cautionary Tales for Children (2005)

The Incomers (2013)

Rehab (2016)


Film

Under Milk Wood (Co-Written by, 2015)

God's Work (In development)

The Mystery of the Raddlesham Mumps (In development)

Summerset (Writing)


Film Shorts

Desideratum (1992)

Little Sucker Thumb (Adapted by, 1993)

Plunkett and McClean (Gallows poem, 1997)

Annie McClue (2011)

The Story Of Martin (Animation, In production)

Lycra Dad (In production)


Dance

Enjoy Your Stay (2010)

Taste (2015)

Audio Recordings

Live at Ronnie Scotts (1995)

The Lost Album (1995)

Simply Everyone's Taking Cocaine (1997)

Vice & Verse (1997)

Casual Sex (1998)

Murray Lachlan Young - Live (2011)

The Alien Balladeer (2013)


Broadcasting

Radio

Poet in residence, the breakfast show, LBC (1996)

Poet in residence, BBC 6 Music (2011-present day)

Poet in residence, Saturday Live, BBC Radio 4 (2006 -14)

Regular contributor to Loose Ends, BBC Radio 4 (1995-present day)

Regular contributor to Kaleidescope, BBC Radio 4 (1995)

Regular contributor to The Arts Show, BBC Radio 2 (2014-present day)

Regular contributor to BBC Radio 5 Live, including special commissions

for Test Match Special, Cheltenham Gold Cup and City v United (2012 -15)

Scotland meet Murray Lachlan Young, BBC Radio 4 (2013)

Alien Balladeer, BBC Radio 4 series (2014)

The Symphony of Medinah, Narrator, BBC Radio 5 Live (2014)

Cern, BBC World Service (2015)

Television

Murray Lachlan Young, MTV USA, series (1996)

Vice Versa, BBC 2 television special (1997)

Regular contributor, The Wright Stuff, Channel (2014-present day)

Contributor, Newsnight, BBC 2, (2014)

Misc

Murray has written for The Guardian, Sunday Times, Telegraph, Shakespeare Globe, The Idler Magazine, Chap Magazine, The Erotic Review, Vauxhall Motor Company and Magners Cider.

He has acted in a number of feature films including Plunkett & Macleane (1999), Vatel (2000) & About A Boy (2002).

Murray co-founded The Crap Surfer movement in 2004.

In 2012 Mick Jagger presented Keith Richards with a CD copy of a MLY poem to mark the anniversary of Keith Richards falling out of a coconut tree.

Voted 34th Sexiest Person in Cornwall 2017 by The Cornishman newspaper