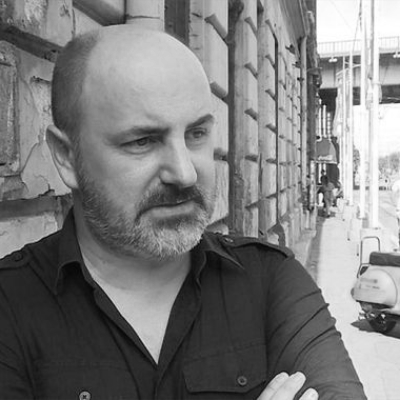 "Julian Assange is Prometheus of our time, chained by the new Gods for giving us the fire of information" said theater director Kokan Mladenović.

"Kokan Mladenovic's name is well known both within and outside the theater. He is the director who will not keep quiet, and won't tolerate it from others either. " –Zsófi Szerda

He completed Secondary Drama and Acting School in Niš, in the class of Mima Vuković-Kurić. Graduated from the Faculty of Drama Arts in Belgrade, 1995, at the Department for Theatre and Radio Direction, in the class of Miroslav Belovic and Nikola Jevtic. Defended his dissertation and received his PhD at the Doctoral Art Studies Dramatic and Audio-visual arts at the Faculty of Drama Arts in Belgrade under mentorship of Prof. Vladimir Jevtovic and Svetozar Rapajic with the thesis "Julius Caesar" by William Shakespeare – in the arena of contemporary history.
Plays:
Aeschylus, PROMETHEUS BOUND, Aristophanes, LYSISTRATA, PEACE, Shakespeare, MIDSUMMER NIGHT'S DREAM, ROMEO&JULIET, JULIUS CAESAR, TWELFTH NIGHT, TAMING OF THE SHREW, SONNET 66, Alesandro Bariko, HOMER - THE ILIAD, Shakespeare, Luis Buñuel, Heiner Müller, HAMLET, Jonh Gay, THE BEGGAR'S OPERA, Miguel de Cervantes, DON QUIXOTE, Henrik Ibsen, PEER GYNT, Mikhail Bulgakov, THE MASTER AND MARGARITA, Lars Von Trier, DOGVILLE, Alexandre Dumas,THE THREE MUSKETEERS, Tirso de Molina, THE TRICKSTER OF SEVILLE AND THE STONE GUEST (DON JUAN), Daniil Kharms, CASES, Ivo Andrić, THE BRIDGE ON THE DRINA, Beumar