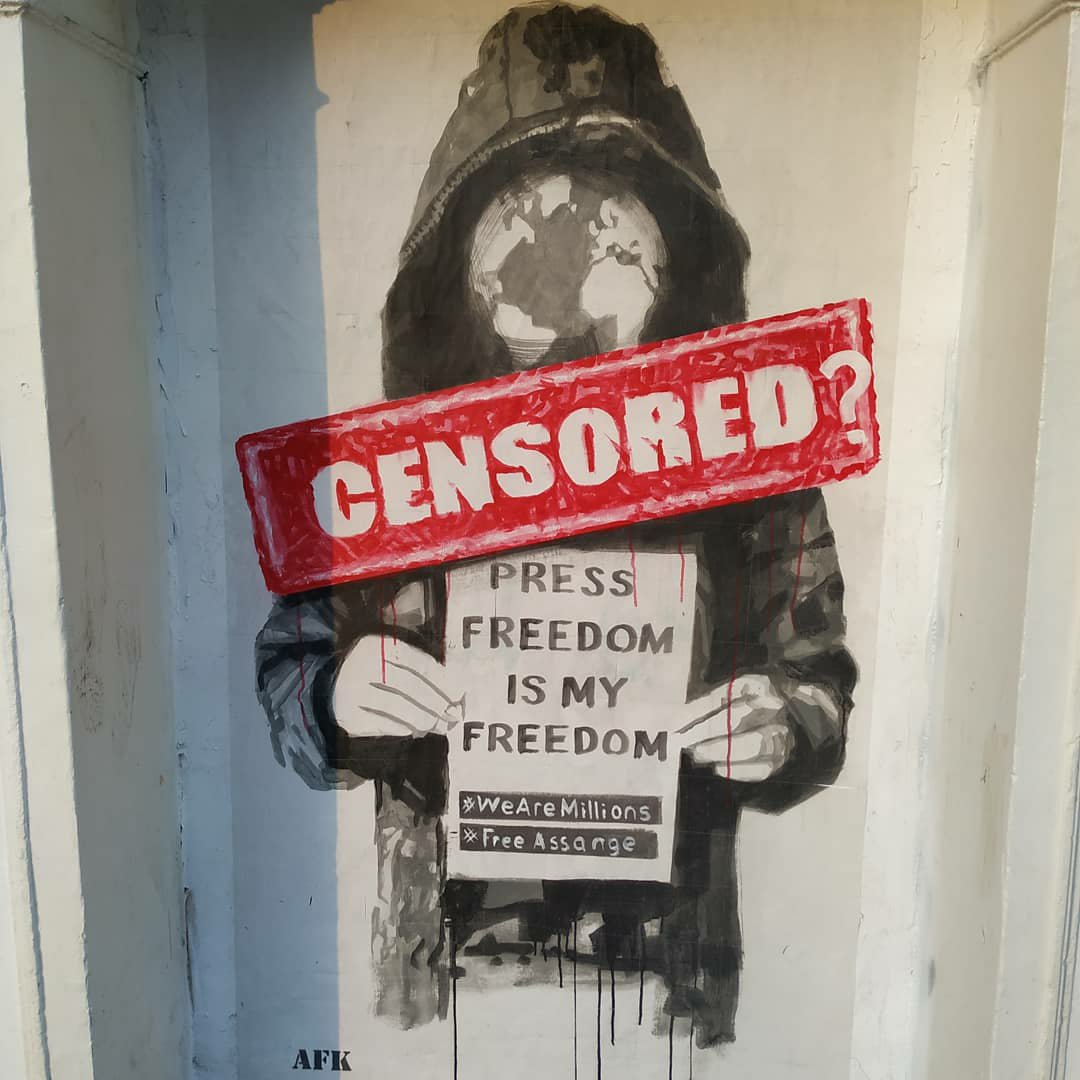 AFK's response to censorship of the "We Are Millions" exhibition at Bergen Media City. He participated by saying "Press freedom is my freedom".
The Norwegian PEN, called it a serious attack on Freedom of Speech and a clear case of Censorship.
Photos by: Ove Jæger Eriksen [source]
"The assembly of Norwegian Visual Artists react to what we consider as censorship of an art exhibition. The actions are an attack on the Freedom of Speech, which we cannot accept. We gather behind Norwegian PEN in this matter; The exhibition should be reinstalled according to the agreement with the artists, whoever demanded it removed must come forward to justify their claim, and the ones responsible for the removal must justify their actions. To remove artwork without an explanation is nothing but censorship." – Chairman Ruben Steinum
Although the overwhelming majority of reactions were that of condemnation, a number of people applauded the exhibition's removal. This facebook post from TV2 journalist, Øistein Borge was rather revealing.

"Fake Art: In the summer someone managed to sneak a large-scale propaganda campaign in support of the hacker and election manipulator Julian Assange into the atrium at Media City Bergen – under the guise that it was art. Now it finally seems that it will be removed. "
That night, a new artwork emerged in Bergen. The painting depicted AFK's own portrait photo from the exhibition, but with his face replaced by a Globe and the inscription 'Censored?'. The artwork was guarded for 24hrs to protect it from theft and vandalism.

"Censored? No matter what your opinion may be about Julian Assange, his potential extradition to the US is a threat to Press Freedom. Journalists the world over (even those who hate him), are as good as unanimous on this. So, we find it strange and rather ironic that the exhibition «We Are Millions» was removed a few days ago from the building that houses the apostles of Press Freedom in Norway. Who requested this removal and why? Was it too one sided? Possibly. But why so afraid of the space of disagreement? This is the space where discussions grow; where we can air our differences of opinion and cultivate clarity. Personally, I think a debate is in order… that is the civilized way to go about things, not censorship. But perhaps this is all just a misunderstanding, in which case we are all ears." – AFK

On the very same day it was made clear that the owners had changed their mind due to the pressure and the exhibition was invited back to Media City.